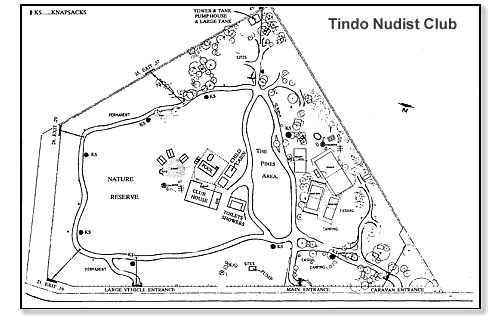 Visitors are more than welcome to visit the club, but are reminded that they are required to be guests of a member on site, or alternatively, hold a current ANF/INF passport or Tindo Bona Fide Card. As we are not a resort but a member owned club then everything that happens at Tindo is because of our members volunteering their time. Please help us by giving at least three or more days notice in order to make arrangements if you intend to visit.
At Tindo you are spoilt for choice, if you wish, you can enjoy your own privacy, you can socialise, even participate in the many planned social activities that are held at Tindo throughout the year or compete in any of the regular organised sports events.
The heated clubhouse can easily accommodate 120 or more people for a social night or fully catered club dinner dance. It also has indoor recreation facilities with a pool table, table tennis, darts, indoor bowls and board games for the kids. In addition to the main clubhouse there is a childrens clubhouse with television, stereo and games. We also have a children's playground that has been designed with safety in mind and includes a trampoline with safety netting, swings and an adventure play area.
For the sports minded, grab your friends to get a game of tennis, volley ball, badmington or miniten, a unique game similar to tennis but played with a bat, very competitive and great fun. A relatively new game that is often played on our grassed recreation area is Klomp, the addictive outdoor game of log tossing fun. Sport activities are often linked to tournaments to test your skill and enthusiasm.
If your need is for less active pastimes, you could enjoy a game of petanque or just do a few laps of the pool. You could even keep fit with a regular jog around our nature trail circuit.
With so much to do it's a wonder you haven't visited us before now, Tindo really is more than a home from home, in fact you could make it your weekend home. Our casual caravan & camping area, with power available, together with our modern toilet/shower/laundry facilities easily compares to most commercial caravan and camping venues.
More permanent shack and caravan sites, some with ensuites become available from time to time.