Please check this page regularly as this page is updated as we organise events.
There is always something going on at Tindo!
Members, please check out our private Tindo Facebook page for impromptu events. If you don't have access please contact the Webmaster.
Every Saturday  5-00pm
Happy Hour
On the top lawn or club house depending on the weather. BYO Drinks and Nibbles.
Saturday December 8th 6:30pm
Come along to celebrate the Jolly Man's season by bringing a plate to share.  If you wish to participate in Secret Santa please purchase a gift of $10 and see what Santa will bring you.
Saturday December 15th 10:30am start
Children's Christmas Party
RSVP by the 7th December via email or SMS to
Naomi (Gordon). For contact details check Novembers edition of the Tidings or speak to her directly. Please provide the name and age of the child and a brief
likes and dislikes so Naomi can tailor some activities. Also include any food allergies.
A visit from Father Christmas and lunch will be provided. Any questions feel free to
contact . Please provide a wrapped gift to the value of $20 which will be
reimbursed.
Tuesday December 25th 6:30pm
Shared Christmas Dinner
Location will be weather dependent but bring some food to share. Christmas day at the club is a great way to let the stress of Christmas and Holidays' pass you by.
Monday December 31st 7:00pm
New Years Eve Shared Tea and Party on until 2019
Meet in the club house for a shared meal then bring in the New Year on the top lawn as has become a tradition for a lot of members. Don't forget to  bring a plate to share and any other items you made need  to celebrate the new year.
Sunday January 13th 2019
Pilwarren Maslin Beach Nude Games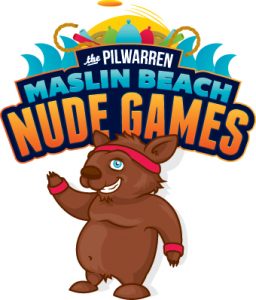 Come along and enjoy a great fun day at one of the best & longest running nude beach days in Australia. Events commence at 12-0opm and include the favourites like frisbee throwing, sack races, three legged race, water balloon throwing, baton race, donut eating competition, Male Best Bum Competitions & Female Best Bum Competitions. See the Pilwarren Web Site for further details.
Sunday February 24th 10:00am to 2:00pm
Open Day
Open to anyone who would like to visit. Enjoy a free BBQ (sausage sizzle) on the lawn and a swim in the pool. Tea and coffee will be provided in the clubhouse. BYO cold drinks, picnic chair, towel to sit on as well as to dry yourself with and tennis racquet (if desired) but you can leave your clothes and worries in your car. There will be some cool drinks and other items for sale on the day. Click on the open day tab on the menu for more details.
Saturday May 18th 2019
Tindo 60th Birthday Celebrations
Where:- Gawler Arms Hotel
Cost:- $35 per person
Entertainment by:- Peter Tilbrook
$10 deposit by:- 24 April 2019
Full payment by:- 5 May 2019
Please note maximum number of attendees is 150
Place your name and number of attendees on the list on the notice board.
Past members very welcome. 
Please contact via the enquiries email on the contact page if you don't have any contact with current members.
Note:- Some past members may like to attend the club the following day to see how Tindo has changed/progressed so we are
also planning to have a "past members open day" on Sunday 19th May 2019 with a sausage sizzle lunch.